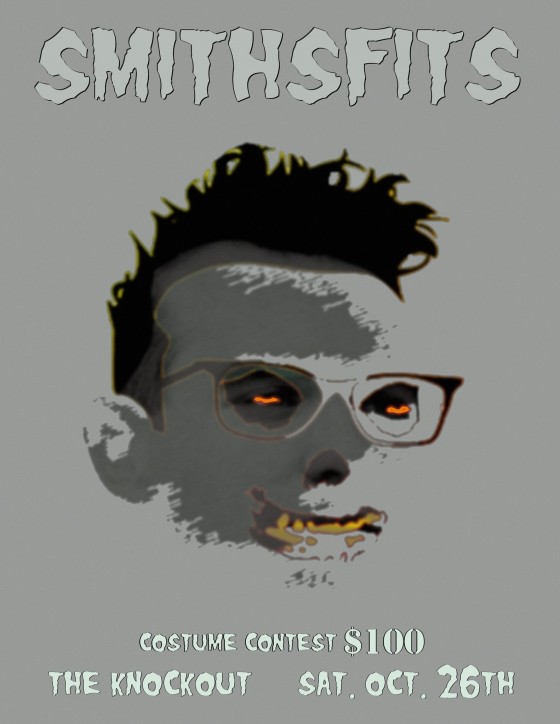 Whenever Halloween falls on a weekday, such as a Thursday this year, there's always some uncertainty concerning the proper time to celebrate.  Purists dress up on the actual day, some people choose the weekend before, others the weekend after, and some determined folks just decide that the whole week is Halloween and go, "fuck you, imma treat myself" while they come to work in costume every single day.
Luckily for those looking to get an early start this weekend, there's a double dose of Halloween dance parties this Saturday!  If darkness is your forte, head over to Smithfits at the Knockout:
SMITHSFITS is back for our 3rd Halloween costume contest. $100 for first place. Drinks for second place.
You can scroll through the pics from two years ago here.

Selectors, Josh Ghoul and Victor Cuevas (LA) will be playing all your favourite SMITHS and MISFITS records all freakin nite long!
If you're just looking to get down and dirty, check out The Devil Made Me Do It at El Rio:

Two costume contests with cash prizes: Best Devil & Best Overall Costume!
Smile and show us some fang in the Monster Photo Booth by SHOT IN THE CITY!

+ Performances by your spooktacularly malevolent ghostess LIL MISS HOT MESS!
+ Live creepy covers and Monster Mashes from MAMMOTH STRIFE!
+ Devil Babe & Boy GO-GO DANCERS from RED HOTS BURLESQUE!

All vinyl, sextacular Girl Groups, Soul, Psych & Garage by:
+ DJs BLOODY BROWN AMY (Hard French)
+ JACKIE "SHEER TERROR" SUGARLUMPS (Web of Sound)
The best part is that they're right across the street from each other, which means you can go to both!  So, it looks like we've got your whole Saturday planned out for you!  Start with some rad live music at the Clarion Alley Block Party, then head on over to DJ Purple VIP Dance Karaoke, and finally finish your night with a double dance party in La Lengua!  Just try not to wear a Breaking Bad costume…