These guys totally ruled. I first saw them open for the Willowz at the Make-Out Room… holy shit… ten years ago, in '04, around the time the Willowz had that song in Eternal Sunshine of the Spotless Mind and were poised to become the biggest rock band in the world, but were still playing the Make-Out Room. For $6: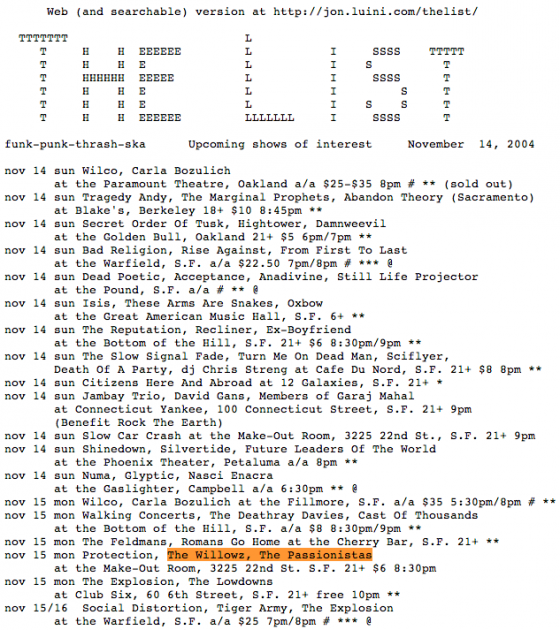 I didn't have any friends here really, so I was standing alone in a corner between bands, and the show was sort of poorly attended because it was on a Monday night, so Myles (the drummer then but the singer in this new video) came over and made friends with me. We were both going to SF State, and we were both drummers, and I think we both lived in the Mission. It sure was a different time back then. Delfina was the only fancy restaurant. There was a KFC on Valencia. And bands like the Passionistas could still afford to live here.
They were a bare-bones rock 'n' roll band, a little arty but not too arty, with Myles' slightly off-kilter drumming style and Aaron's definitely off-kilter crooning. I would see them every chance I could after that. And I bought a lot of their (usually homemade) merch. Eventually they got another drummer so Myles could better help front the band, as you'll see in a second.
They broke up in 2009 I think, and Aaron and Myles went on to do some amaaazing solo projects. But there was never anything quite like the Passionistas, so I was extremely pleasantly surprised to find this newly available song and video in my Facebook feed last night. It totally rules too:
(The Willowz were okay, but not as good as they got 5 years later on their killer album Everyone.)
Now check out all these old Passionistas-related Mission Mission posts…