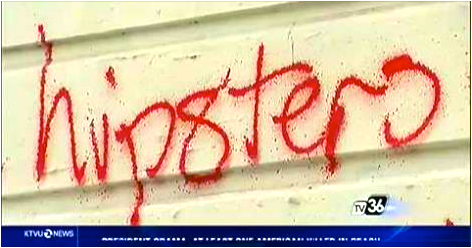 Here in the Mission, gentrifiers still have about 4 months left til "soldiers" "come out gunnin'" for "hipsters and the yuppies" as promised by some graffiti on a neighborhood wall.
In NYC, it's already happening. Gawker reports:
Two Brooklyn women have had enough. This weekend, Precious Parker, 30, and Sabrina James, 23, allegedly forced their neighbors out of their Flatbush apartment building at gunpoint.
According to a police source who spoke to the New York Daily News, Parker and James knocked on their neighbors' door around 9:30 p.m. on Saturday and "held a 34-year-old man, a 37-year-old man, and a 25-year-old woman at gunpoint demanding they move out or be killed." The trio complied, and Parker and James squatted in their apartment until police arrived. Cops say one of the women told them she didn't like "that white people were moving into the area." [link]
No blood was shed, and Precious and Sabrina pretty swiftly ended up in jail, but… it's happening.