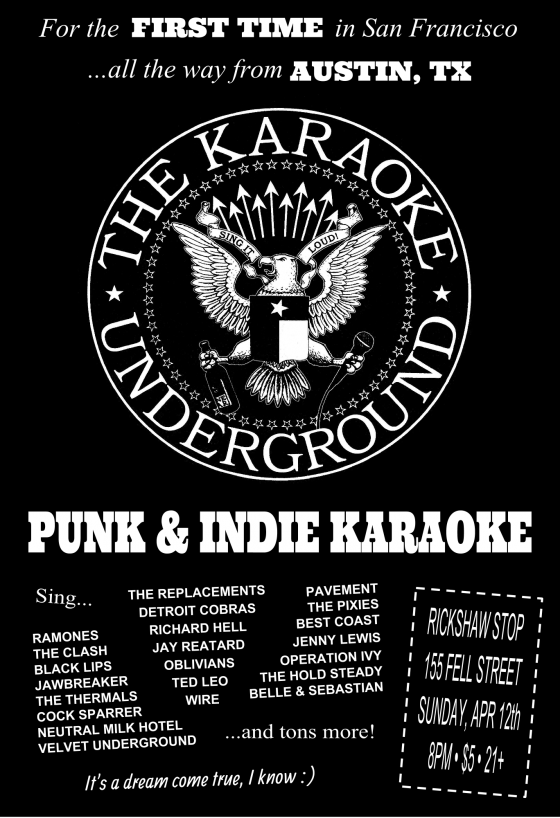 I first stumbled upon The Karaoke Underground doing a Google search for "replacements can't hardly wait karaoke," because no karaoke place seems to have that song even though it's like the best song.
As I scrolled through their songbook, seeing songs by Jay Reatard and Cock Sparrer and the Detroit Cobras and the Thermals and NOFX, I was stupefied. I was sure it was some kind of prank, that it was too good to be true.
But it's true.
A few months later I dragged a couple of my best friends to Austin to see for ourselves, and I had one of the best nights of my life, singing "Always Wanting More," "Take 'Em All," "Pillar of Salt," "Bad Girl," and "Lori Meyers" — each and every one a song I'd never in my wildest dreams dreamed I'd get to sing at karaoke.
And it's not just some jerk playing YouTube videos. Creators and hosts Kaleb and Hannah have made every single one of their 900+ karaoke tracks from scratch, and they've even gotten the blessings of certain punk rock superstars along the way. It's a labor of love and it shows, and it will probably be one of the best nights of your life too.
One month from today, on Sunday, April 12th, 2015, KU is coming to SF for the very first time. And it's at Rickshaw Stop, so you get to perform on a stage the actual Thermals performed on! And THE SONICS performed there last year for goodness sake! I'm gonna pass out.
Browse the (completely mind-blowing) songbook and then RSVP and invite your friends.
(I'm helping out with some promo and logistics, and I'm tremendously excited about it, so don't be surprised if I write about it a bunch more in the coming weeks.)