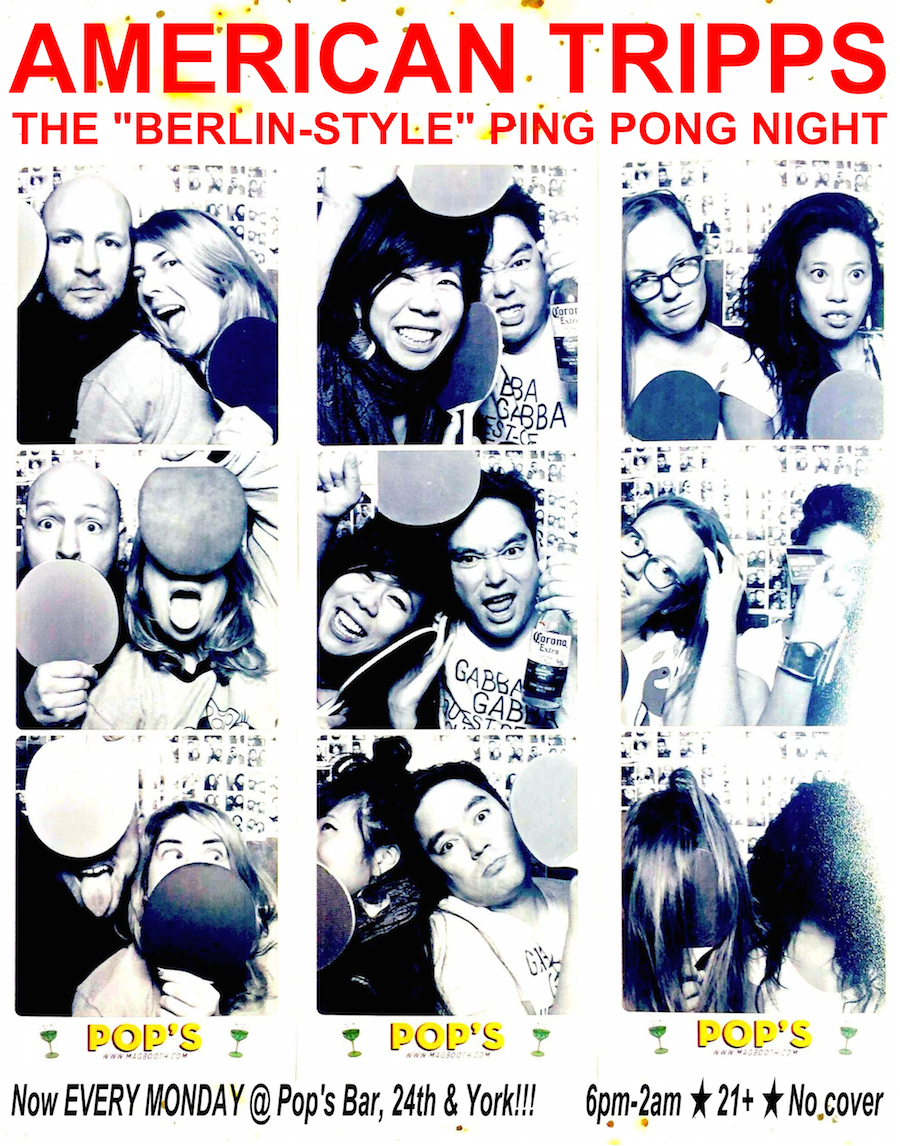 [Editor's note: This is actually my event, so the Pop's folks let me write the blurb. Please enjoy...]
Sooo, what's "Berlin-style ping pong night" mean anyway? Well it's three things…
It happens in the evening, in a dark, friendly neighborhood bar, where the booze is flowing and the party vibes are strong
There are DJs spinning upbeat danceable jams, both familiar and unfamiliar
The ping pong is a little different, played in a social and casual and kinda trippy way that allows 20+ people to take part
Here's an animated GIF of that last one: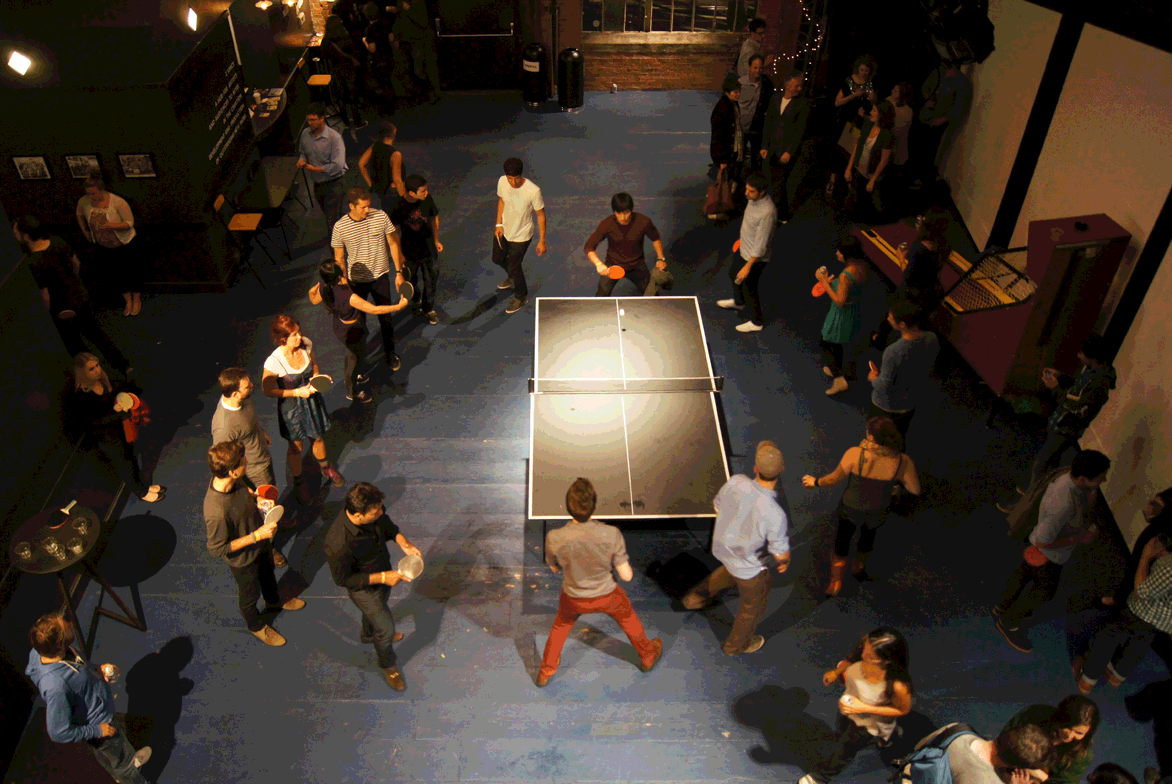 Tonight will be just like that except there's a lot less room at Pop's, so the circle is much tighter — and thus it's much easier to make new friends
Check out this week's entertainment line up at Pops Bar:
4/4/16 MONDAY
American Tripps: Berlin-Style Ping Pong Night
Born in the back rooms of dive bars in Berlin and perfected in the secret semi-legal art spaces of the Mission, this is a brand of ping pong built for happy hours and late nights.
With DJs Beauregard & Nutzeffekt (and special guests) spinning dancefloor gems and barroom bangers they picked up in Berlin and elsewhere.
Now every Monday at Pop's, 6pm-2am, no cover
4/5/16 TUESDAY
Trivia Tuesdays
Pops Quiz
$2 to play
8:30-10:30PM
Join us every Tuesday of the month and test your wits at Pops trivia night "POP's Quiz" where your brain may get stump on categories such as Pop's culture, Sports, Movies, Music and more, with little snippets of audio and visual effects too! So come on in for some good ole fashion competition and a night of drinking with the crew! It is a 2 dollar cover and winner gets the pot!! so tell friends and family because the more peeps the steeper the cash prize is!!
MUSIC THERAPY
Electro-Cumbia Breaks, Hip Hop, Nu Latin Beats
9PM-1:30am
No Cover
21 UP
4/6/16 WEDNESDAY
Happy Hour Entertainment 6-9PM
85 Song Happy Hour
Nick Pal spins short songs because life is short. Hard rock, power pop, punk and pop vinyl.
Sterling Soul Night
The "STERLING" SOUL NIGHT has moved to Pop's Bar!!!!!
Soul/R&B/Doo Wop/Girl Groups ALL 45s
Now on the first Wednesday of the Month with Matty Holt and special guest Muddbird of Resonate!
9pm-2am
No Cover
4/7/16 THURSDAY
Happy Hour Entertainment 6-9pm with Alabasters Record Collection. All Vinyl All The Time. Eclectic, Rock & Roll, Punk, Indie, 80s & Whatever.
BFF.FM Night
9PM-1:30AM
Rotating DJs from local BFF.fm radio! This week: Maximum Rocknroll
MRR is taking over the turntables and playing all PUNK! All VINYL!
Come wet your whistle and hear the MRR staff spin some of their best choice picks.
DJ sets by Eli Wald, Grace Ambrose and Brendan Wells
Come support local community radio.
No Cover
4/8/16 FRIDAY
Happy Hour Entertainment 6-9pm
Music For Ghosts
Lester T. Raww spinning music from the 1920's, 30's & 40's.
24 & YORK
Rap Music + Cheap PBR + No Cover + Good Company
9PM-1:30AM
No Cover
4/9/16 SATURDAY
Lonesome Lester
6-9PM
Lonesome Lester plays three kinds of music: his music, old music, and his old music. Armed with a ukulele, occasionally joined by an acquaintance or two, Lester plays Tin Pan Alley favorites as well as his own songs…which sound like Tin Pan Alley favorites.
SADDERDAY EMO NIGHT
an emo/pop punk/scremo/electro dance party
with DJ Kevin Kannibal and Ashley Suicide
9:00pm-1:30am
No Cover
21 UP
4/10/16 SUNDAY
MUSIC THERAPY
Electro-Cumbia Breaks, Hip Hop, Nu Latin Beats
5PM-10PM
No Cover
21 UP
POPS BAR
2800 24th Street @ York
San Francisco, CA 94110
www.popssf.com