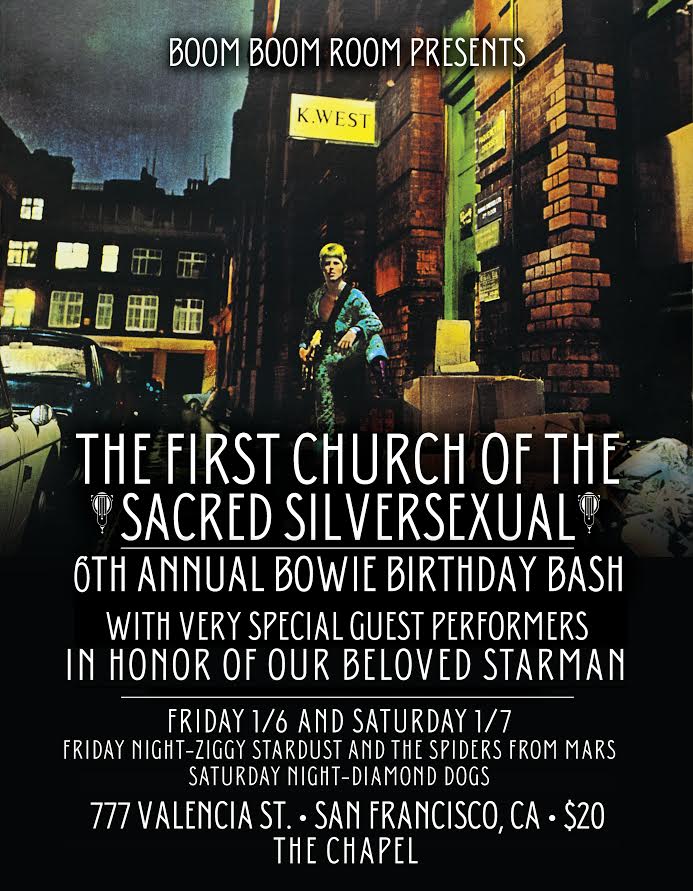 Two nights, TONS of Bowie, at the Chapel right here in the Mission. And it sounds epic. Here are the specifics on Friday night:
The world's only Bowie Worship Band will perform the seminal 1972 concept album, The Rise and Fall of Ziggy Stardust and the Spiders from Mars! Reverent Father Lysol Tony-Romeo and some of San Francisco's most eclectic drag artists will tell the Parable of Ziggy with a theatrical Silversexual Spectacular performed to live music!
Doors open at 8:30pm with a DJ spinning glam rock gold!
With mirrors and a place for you to get in fabulous face! Confess your most sinful stories to a real Bowie Reverend in the Silversexual Confession Booth!
At 10:30 the First Church performs the complete Ziggy Stardust album with interpretive drag and theatrical performance!
Then at midnight, a special Blasphemous Mass bringing you Silversexual rites and rituals to live music! Get Blessed by Bowie!