We can't believe it's been 20 years since Rent became a thing, and it became a BIG thing. Your DT&D columnists were definitely both Rent-heads and obsessed with Rent in high school. We were so excited for this 20th Anniversary Tour!  Brittany couldn't make it to the opening, so Katie brought her go-to back up reviewer Garrett, who had never seen the show and was excited to see what all the hype was about.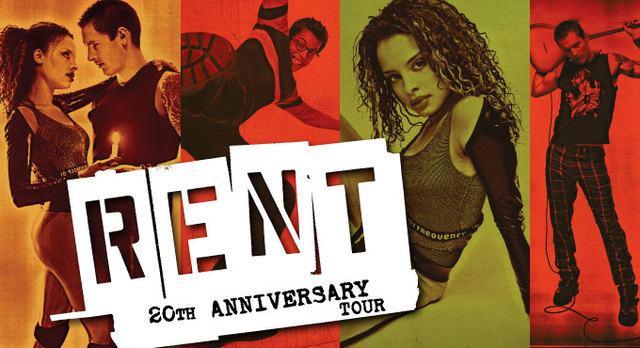 Garrett: So, I know this is your favorite musical of all time. How did it hold up?
Katie: Well, 20 years later and this show still has me in awe. It held up really well for me. I struggled with my super-fandom, knowing every line and every single word was annoying because I would anticipate everything. But it's still the innovative, touching, raw, beautifully belted musical that I fell in love with when I was 15 years old.
G: As a Rent first timer, I'm definitely impressed. I did enjoy the second act more than the first, because I was a little lost in the beginning. Not being familiar with the show, I was trying to figure out what I was looking at, and hearing! It was super emotional, very dramatic and well done in terms of the talent. Great actors tonight. The singing was beautiful and the show had a lot of energy. It definitely sucked me in and kept me entertained, which is always what I'm looking for. And it was really cool to see a show that explored important social topics, which are still relevant today.
K: Who was your favorite character?
G: Hmm, I guess If I had to pick one it would be Mimi.
K: Yeah, I really liked the actress who played Mimi (Skyler Volpe). She made some interesting choices that were more subtle and real. Speaking of choices, I could tell that there were a lot of "Rent-heads" in the audience who know the broadway cast recording like the back of their hands. They would acknowledge with a clap or laugh when an actor changed something from the original performance. I could tell the audience was feeling it.
The Verdict: Rent is the original Hamilton. A must see musical, period.
The Drama Talk: This won Tony Awards for Best Musical, Best Book of a Musical, and best Original Score for a reason. It's a brilliant 90's rock opera that will make you laugh, think and cry. Tackling social issues, this musical grabs you immediately with its raw, fast paced style. With all of the dialogue sung rather than spoke, the style can be choppy and distracting at times, especially for someone new to the show. But don't worry, you're in good hands with this talented cast and rockin' orchestra.
The Drinks: We stumbled upon a new bar called "BIIG" that hasn't even officially opened yet. It's just a block up from the theater and was quite bohemian chic. There thing is having no menu so we just told the bartender our choice alcohol and preferences and they create something unique. And unique felt like the appropriate drink experience after seeing this show.
Rent runs through February 19th at The Golden Gate Theatre. There are both $40 mobile and $25 in-person rush tickets available. You can check-out the SHN website for rush info. Goldstar also currently has tickets for $60 (normally priced $90).
Save