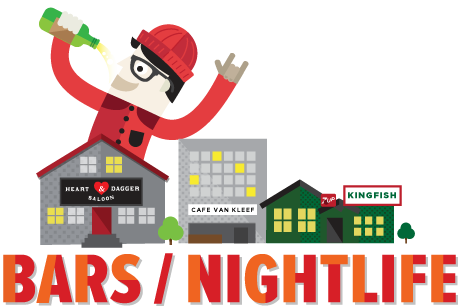 Our pal Sarah recently "retired" to Oakland but realized that the only way she could get her SF friends to visit would be to educate them about all the rad things the East Bay shares with the city, so she constructed this comprehensive compendium of comparisons between the various bars, restaurants, and other fun that each side has to offer.  Even your groceries are covered:
Rainbow Grocery (The Mission) / Berkeley Bowl (Berkeley)

Can you imagine Rainbow but twice as large, half as expensive, and with a fantastic meat and seafood selection? If not, go visit Berkeley Bowl, or its newer location, Berkeley Bowl West. The Bowl is an East Bay staple, and can satisfy every hippie, health nut, hipster, and politically conscious bone in your body.
She's got an Oakland answer for everything from Bender's and Bi-Rite to Toronado and Tartine, so if you've ever been the slightest bit reluctant to venture to the other side, please do read on.