Kally Price is an amazing local jazz singer in the Billie Holiday and early blues tradition. She's one of the most soulful and sincere singers in the bay area; you'll get none of that mom-friendly Diana Krall business that Yoshi's tries to shove down your throat. This stuff is more grandma-friendly. Face it, your grandparents were way cooler than your parents.
She starts at 9pm at goes till 12:30 at Revolution Cafe (or as I call it "little Amsterdam") on 22nd and Bartlett. No cover charge so be sure to get your drink on and toss a fiver in the tip jar. We spotted Broke-Ass Stuart there last night so you know it's affordable.
Check out this video I shot of her singing one of her originals at Amnesia a while ago:
Or if you're looking for something more heavy: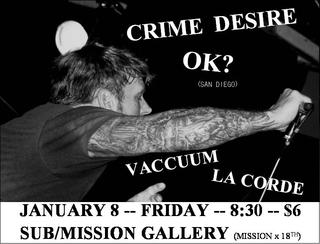 The loosely-mission based post-punky new band La Corde are playing a show tonight in the mission opening for Crime Desire and OK?
Sub-Mission is on Mission and 18th. It shares space with Taqueria El Balazo. It's one of those rare all-ages punk venues in a warehouse-y space. Don't you miss having your mom drop you off at the Gilman and changing into your studded jean jacket while your best friend spiked your hair with Elmer's glue in the parking lot? I do.