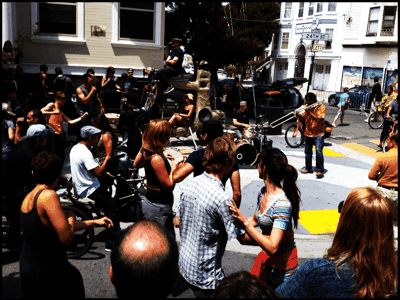 The Bicycle Music Festival is back!  What better way to spend a sunny Saturday than biking down city streets with a bunch of fellow cyclists in the middle of huge rolling concert? 
The fun starts in Speedway Meadow in Golden Gate Park at 12 Noon for a bushel of bands headlined by Sean Hayes.  At 5pm the party gets rolling through the streets (the full map of the ride can be seen here), with bicycle rapper Fossil Fool leading the way on his crazy double-decker musical cycling contraption (seen in the awesome GIF up there by Burrito Justice).
The route goes through Dolores Park (where, if last year is any indication, a few bands might post up and play),  Valencia,  24th Street, and Harrison, before looping back to 16th and finishing the party up at Showplace Triangle.  See you there!
Previously: