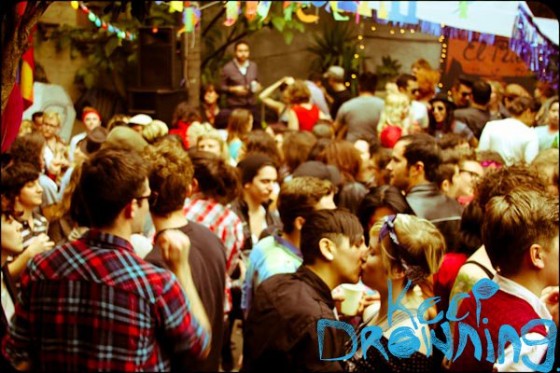 I've expressed my love for Hard French in the past and have been exhorting you all to see what the fun is all about for some time, and now you have the perfect opportunity:  The Hard French 2011 Pride Party at Public Works on Sunday, June 26th!  They folks behind this weekly afternoon party are kicking it up a notch for Pride with DJs and live performances by some of the fiercest acts in the Bay Area.
The best part is that we're giving away two free tickets to whichever MM readers post the raddest Hard French photo in the comments below!  Include a link to the photo (and a caption if you're clever) and we will announce the winner at the beginning of next week!  If you have a Facebook photo, be sure that it's set to "public" so everyone can see it, or just post it on Flickr or something.
Oh my.  I almost forgot to mention that the special guest will be Erase Errata!  Check out the full press release after the jump:
[Photo by Keep Drowning]
What's this, Hard French is hosting a debut party at Pride?
Hard French has got some serious soul, but for Pride we're going to kick our offerings up a notch and bring you live music, DJ's & performances that cross boundaries, transcend genres and break down all sonic barriers.  On our main stage get ready to sweat to performances by the electrifying Big Freedia, the "Queen Diva" of New Orleans bounce music, HOTTUB, dirty disco rappers from Oakland, a rare performance by Bay Area Post-Riot Grrrl legends Erase Errata, Nick Waterhouse and the Tarots, a rough n' ready group of guys and gals playing old-school r&b music and other special surprises.   Upstairs in the Oddjob Room strap in for a wild ride with 6 clubs in 6 hours bringing you sets by some of the hottest queer DJ's from San Francisco and beyond and in addition to the 'next level' drag of the Queen of Nasty, Christeene Vale.  Of course, we would never leave you craving for the sweet soul music and special touches that keeps you coming back to our parties month after month so plan on sweating it out to hours upon hours of your favorite 45's from our house DJ's  Brown Amy & Carnita as well as our special guest, the legendary DJ Beyonda and don't miss our smoking-hot Hard French Jiggalicious Dance Babes and notorious Photo Booth which will be benefiting a local queer non-profit.   Our goal this year was to create a Pride Party with something for everyone: Hard Cruising, Hard Dancing & Hard Frenching – it just got better.
Party Details:
Public Works
161 Erie Street at Mission
Sunday, June 26, 2011, 2pm – 10pm
$15 Limited VIP Presale, $20 At the Door
Presale tickets now onsale at http://hardfrenchpride.eventbrite.com/
"Is Hard French the country's best gay party?
– Zack Rosen, The New Gay
"A raucous party filling the weekend void with BBQ animals on the grill, marinated animals on the patio and dance floor, and DJ Carnita and Brown Amy on the tables."
–Marke B, San Francisco Bay Guardian
"Nearly a full city block from the doors of the El Rio I could hear the crowd, and I experienced my first reaction to the best damn party in the city: 'Man, where have I been all this time?'"
–Jonathan Hirsch, Asterisk San Francisco Magazine
On the Mainstage:
As always:
DJ Carnita & DJ Brown Amy
playing the 60s girl groups, early '70s soulful funk, boogaloo, garage & Northern Soul stompers
Special Guest DJ Beyonda (PDX)
the legendary Pacific Northwest DJ who founded Portland's famous Hole in My Soul party
Live Performances by:
Big Freedia (NoLa)
The undisputed "Queen Diva" of Bounce Music
HOTTUB (Oakland)
Dirty Disco Rap
Erase Errata (SF)
Post-Riot Grrrl, Post-Feminist, Post-Punk legends
Nick Waterhouse & The Tarots (SF)
Playing R&B music like it's new again – raw and rhythmic and vital
In the Oddjob Room:
Six Parties in Six Hours!
Stay Gold with DJs Rapid Fire & Pink Lightning
White hottt cruising and hella gay dance jams
Ships In The Night with DJs Bunnystyle & Black
A Radical, Trans-Bay, Queer Dance Party
OH! with DJ Taco Tuesday
The Party for the Dirty Gentleman
Dial-Up with DJs Robert Jeffrey and Dr. Sleep
The Call of the Wild(est) Party in Town
PARTYHOLE!!!!!!!! with DJs Booty Klap & Jiggles
Nasty Jams for Nasty Follks
Blow Pony with DJs Airick X & Kinetic (PDX)
Queerupted with Class
Live performance by Christeene (Austin, TX)
Filthy, funny and freaky and often accused of sexual terrorism and drag de-evolution
What is Hard French?
As San Francisco's favorite daytime soul music dance party, Hard French sets out to bring a diverse group of folks together to modernize, takeover, revamp, trick out, revive, and do up the dance party experience.  Their crew consists of two DJs (Brown Amy and Carnita) and four producers (Devon Devine, Tina Faggotina, Jorge P., and Amos G) and brings a fresh perspective to the SF party scene – focusing on a genuine experience through creativity, magic and the value of dancing your heart out to your favorite song.  Hard French hit the road in 2010, throwing successful parties at The East River Bar in Brooklyn, the Augusta House in Toronto, ON and their most ambitious event to date- the First Annual Hard French Winter Ball which drew over 400 attendees to the Historic Brookdale Lodge – a haunted hotel in the Santa Cruz mountains.
Hard French has been featured in The San Francisco Bay Guardian, SFist.com, SF Weekly, Asterisk Magazine, The Village Voice (NYC), MissionMission, Butt Magazine Online and more.
Hard Dancing. Hard Cruising. Hard Homos.
CONTACT:
http://www.facebook.com/hardfrench