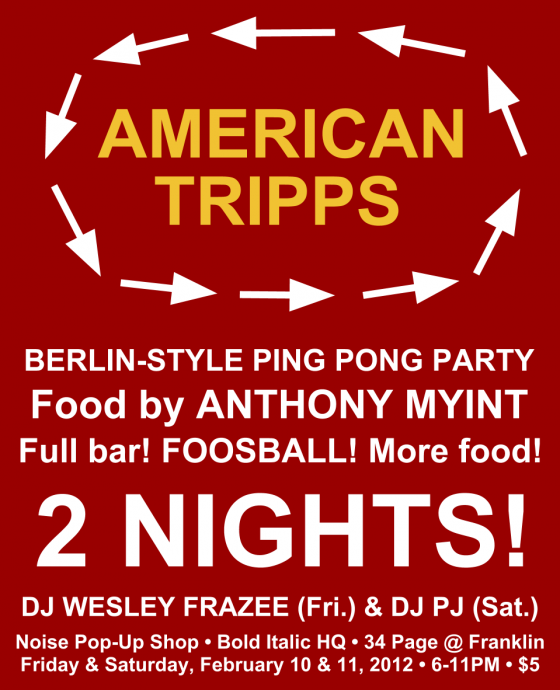 Noise Pop and American Tripps this weekend present a two-night Berlin-style ping pong extravaganza featuring THE RETURN OF THE MISSION BURGER. Chef Anthony is taking this opportunity to preview some of the fare he'll eventually be cooking up at the forthcoming Mission Bowling Club.
And looky here, Eater SF just published an exclusive look at this weekend's menu:
Menu for Friday (2/10)
Mission Burger (granulated patty, caramelized onion, monterey jack, caper aioli)
CA Spring Roll (fresh peas, radishes, cocoa butter, rice, nori)
Sopaipilla (roasted cauliflower, pickled apple, edamame, eggplant)
Buttermilk Pannacotta (chamomile brittle, spring herbs, mint oil)
Menu for Saturday (2/11)
Spring CA Roll (fresh peas, radishes, cocoa butter, rice, nori)
Jerk Pork Shoulder (smoked, with black beans, sour cream, plantain flatbread)
Vegan Sandwich (chickpea, kale & shitake fritter, topped with fennel and spicy avocado)
Babamisu (mascarpone stuffed baba with espresso bubbles)
Omg! Must… formulate… plan… for not… getting so stuffed… I can't… play ping pong.
Anyway, as if that weren't enough, this party will also feature two ping pong tables, one foosball table, TWO FULL BARS by Stoli and Trumer and Hudson Whiskey and Fernet, DJ sets by DJ Wesley Frazee and DJ PJ, party photography by Allison Donlevy, bacon-wrapped chicken and waffle sandwiches by Soul Groove — and it all takes place at the brand-new Bold Italic headquarters, which was expertly designed and furnished by Kelly Malone. Phewf! Don't miss out! (21+ only, sorry.)
RSVP and invite your friends (Friday) !
RSVP and invite your friends (Saturday) !