Jason from Popo's Pizza, the new pizzeria on 24th and Bartlett, invited us down to taste their pizza and drink beer last night. We like pizza and beer. We also like free things. It was an offer we couldn't refuse (stay tuned for another Godfather reference).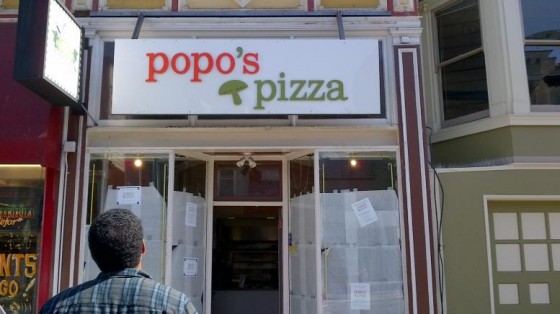 Here's some general information: Popo's got it's start in West Oakland where it has received some undeniably good reviews. Pizza chef Charles Hopkins (who for some reason introduced himself as "Jay") is a graduate from the SF Culinary Institute and he makes his dough fresh daily. They are closing up the West Oakland location and moving here. He won't only be serving pizza, either. Jay seems to have a thing for rotisserie-ing every kind of animal, so expect that to come a few weeks after opening day. Apparently, he makes some killer ribs.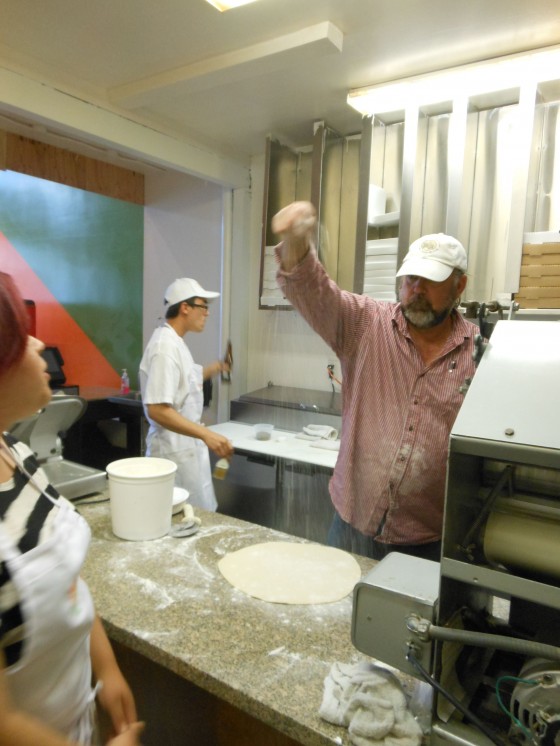 On to the pizza, which is what we all really care about right now. Jay's pizzas are definitely his own creations. If you're looking for the NY-style Arinell killer, you wont find it here. But hey, not all pizza needs to taste like New York, right? Besides, we already have an Arinell. Bagels, I would argue, do need to taste like NY.
I realize that unconventional ingredients like BBQ chicken, mango, squash, and fresh-sliced gouda scream "California Pizza Kitchen", but I thought it was tasty and the ingredients were of surprisingly high quality. We sampled  a few pies: "BBQ Pesto Chicken", "Mango Prosciutto", "Muzu", and  "Ham and Smoked Gouda Goodness".
When Jay rushed over to drizzle truffle oil over my slice claiming he forgot to do so earlier I said, "that's cheating". But I'm not one to turn truffle oil down, so I had him dump it on all my slices, thus deliciously contaminating my entire sample set. Some scientist I am. He also had a side of some pretty mind-blowing blue cheese on the side that I piled on just about everything.
Near the end of our visit, Jay brought out a surprise dessert of cannolis which were so good that I wouldn't dream of leaving them in the car. Unfortunately, these don't seem to be on the menu.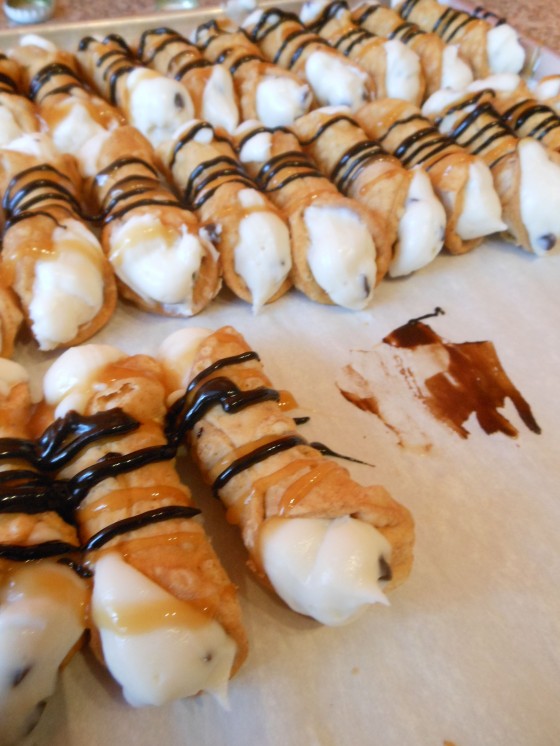 Overall, I really enjoyed the za. Nick and Lily thought it could have used some more salt. The guys from Mr. Pickle Sandwich Shop (who were also there for some reason) didn't stop scarfing down slices long enough to say anything so I assume they liked it too.
That being said, it's not a quick grab-and-go slice spot common to the area. Their smallest offering is a $7.50 personal 7″ pizza. All their pizzas are priced the same ranging from $22.50 for a 14″ to $26.50 for an 18″. Due to the thinness and softness of the crust, I don't think it will fill you up as much as a similarly priced Zante pizza (my go-to take out pizza) but will definitely be an interesting departure in terms of flavors. However, their pies to come with free salad and dessert, so that's a bonus.
The restaurant is still under construction, but they expect to open tomorrow (Friday). Here's the menu: Page 1, Page 2.