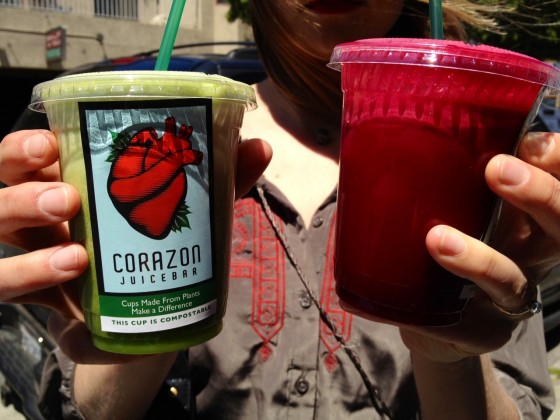 Dudes. New juice bar on 22nd. Oddly, it has almost the same name as the wine bar that used to be on Valencia at 24th… must be something about leaving your heart here?
Super Fresh on left features fresh mint, pineapple, cucumber, spinach, apple, and a foamier head than many beers I've had.
Red Zinger on right has beet, ginger, orange, and apple. Do you know how rare it is to find a menu that offers a carrotless beet-ginger juice? As a vehement carrot-hater and passionate beet and ginger lover, I can tell you: it's very rare indeed. And if you ask most juice bar employees to leave them out, they're likely to act all exasperated and put out, or else they try to get you to change your mind.
Corazon also has Mexican flavors of Sno-Cones, like guava and tamarind. Yes.