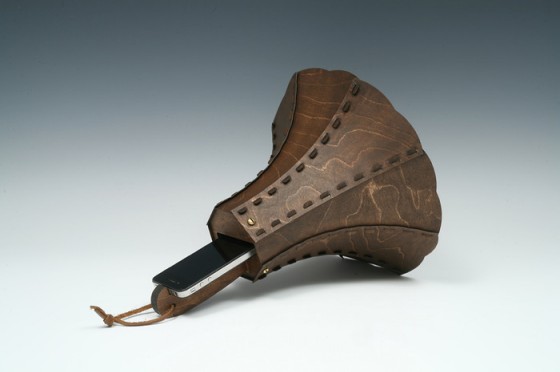 Artist Lawrence LaBianca fabricates these beauties in his studio right here in the Mission, and he's got a Kickstarter campaign up and running (it's met its goal, but that doesn't mean you can't still pledge and get in on the perks):
I discovered that a sound projected through a horn can create a sound environment. One can use the phone and have an intimate experience with sound while not overpowering the surrounding area. Imagine sitting at ones desk and wanting to listen to some music, while someone else within earshot is not disturbed.
Last, The idea of plugged in and unplugged at the same time is of interest to me. Plugged into technology with the iPhone. With a nod to the past and the beauty of pure form and visible function as in the Victrola. A perfect marriage of craft and technology.