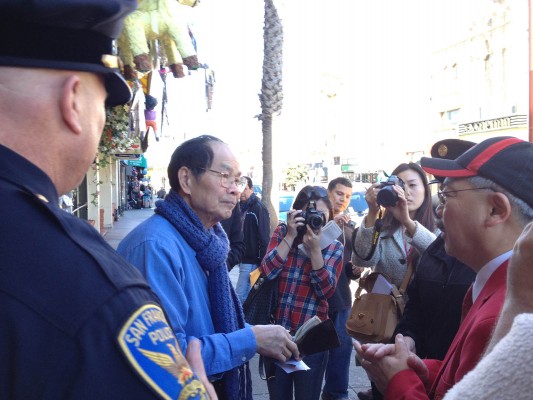 Mayor Ed Lee and SFPD Chief Greg Suhr came to the neighborhood to tell merchants all about their plan. Mission Local reports:
SFPD is doubling the number of officers on the street during the game compared to the force deployed after the World Series, Suhr said.  Rather than wait until the game ends, forces will be pre-deployed during the game along major thoroughfares including Market Street, Hayes Street, 16thStreet, 24th Street and Mission Street.
During the World Series, people put their garbage out and bins were overflowing, offering fuel for bonfires.  This time, officials are working with Department of Public Works to empty cans every hour during the game.
After 5 pm on Sunday, buses will no longer run along transit lines, but use diesel fuel so they can carve alternate routes around celebrations and avoid any crowds blocking the streets.
Can't wait! Also, a threat:
In a veiled warning to Super Bowl revelers, Chief Suhr said: "Carry yourself as if you're on television, because somebody is probably be videotaping you."
"Know that if you're acting out, someone is going to have a video camera and they're going to send it to us," Suhr added. "  Don't let this be a life-changing experience." [link]
Well, I for one, I mean, I've always wanted to be on TV!