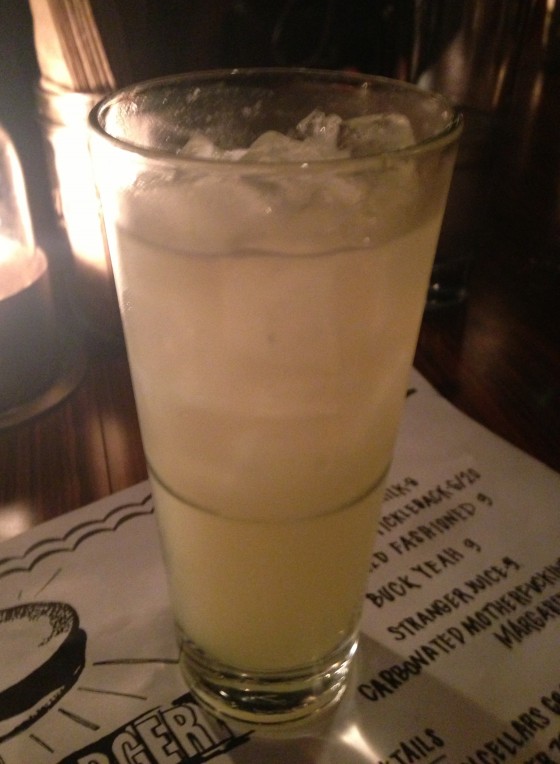 As may have been mentioned, KronnerBurger is the best thing. Unfortunately, somebody blabbed about it and now I have to wait for a table when I go there. Fortunately, it's not hard to pass the time, because the third best thing about KB (which is the best thing) is their bangin' cocktail selection, which includes such classics as the Carbonated Mother Fucking Margarita and the Scotcholate Milk. (The best thing is the burger, and the second best thing is the onion rings. The onion rings are seriously among the best I've ever had and come in a huge portion for $6. Go ahead and hate on that, you monster.)
Continuing the twin traditions of punny and profanity-laced cocktail-naming, the most recent addition to the menu is entitled the Buck Yeah. I was like "I'm gonna order that one" and then Ariel was like "what's in that" and I was like "well, a buck is a kind of drink, it's like a whiskey and ginger ale, I think, or like, it's similar to a mule, y'know, like a Moscow mule, although that's vodka, so…" and then I realized I don't really know what a buck is. But this one is basically mezcal, lemon juice, fresh ginger, and soda in a tall glass, ideally served alongside a burger and onion rings. Another example of 2013′s hottest new trend: cocktails to eat meat with.
Drink of the week is brought to you by Poachedjobs.com.