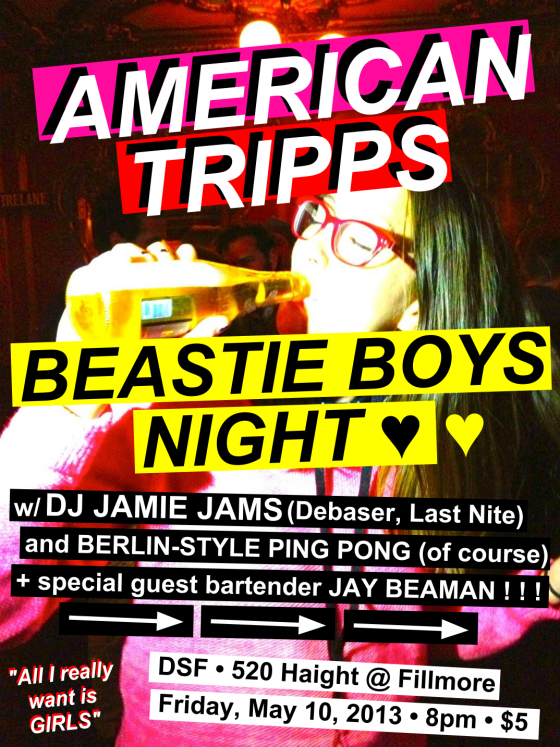 Almost exactly two years ago, a Beastie Boys cover band from Texas or something came through SF and played a set at the Knockout. They were okay, but the real star of the show was DJ Jamie Jams of Debaser, who opened and closed the proceedings with selections from his exhaustive collection of songs famously sampled by the Beasties. This Friday, he does it again.
Plus, the American Tripps crew has some other reasons for a Beastie Boys party:
We're doing our first party in NYC later this month (May 31st) at PIPS in Williamsburg, so we thought what better way to get in gear than with a BEASTIE BOYS NIGHT right here in SF? No sleep 'til Brooklyn!!!!!
So we booked the award-winning DJ JAMIE JAMS of Debaser ('90s night) and Last Nite ('00s night) fame, and he's spent the last few days putting together the perfect Beasties-themed set, full of hits by the boys themselves as well as lots of the songs whose *samples* provide the backbone for many of the most beloved Beastie jams.
And then we booked special guest bartender JAY BEAMAN (of Dear Mom and Thieves Tavern), and he'll be slinging Beasties-themed drink specials!!!!!!! (Including BRASS MONKEYS and A BOTTLE OF CHATEAU NEUF DE PAPE!)
Into it! Click here to RSVP and invite your friends, and listen to some tracks Jamie's thrown up on the wall as a preview!