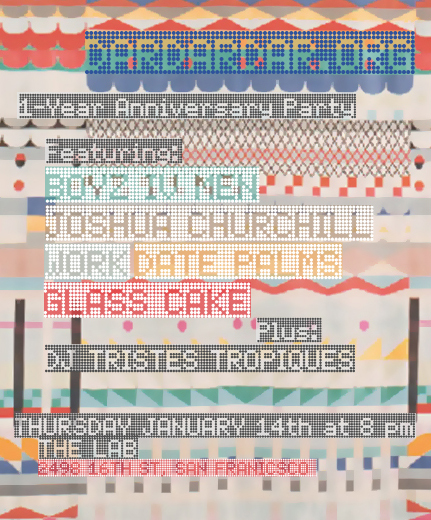 Hella bands tonight at the Lab. Contrary to the info on the flyer, the official roster is: Boyz IV Men, Date Palms, Work, Raccoons, Glass Cake. Bearded DJ Triste Tropiques will be spinning the only bands that matter: SF bands! There will also be FREE COOKIES; no word yet on what kind.
This is all in celebration of DarDarDar's 1-year anniversary. DarDarDar is a great site that lists bay area shows that you care about. It's the cleanest, most bullshit-free calendar there is and I highly recommend it. It's way better than flipping through the SF Weekly or combing through each venue's lousy web site. The site owner is also a Dreamdate bro and tasteful photoblogger.
"Dar" is short for the last syllable in "Calendar". That fucking word was my death blow at the 6th grade Stanislaus County Spelling Bee. I let a lot of people down that day. If only I could give back that pizza party the principal had in my honor.