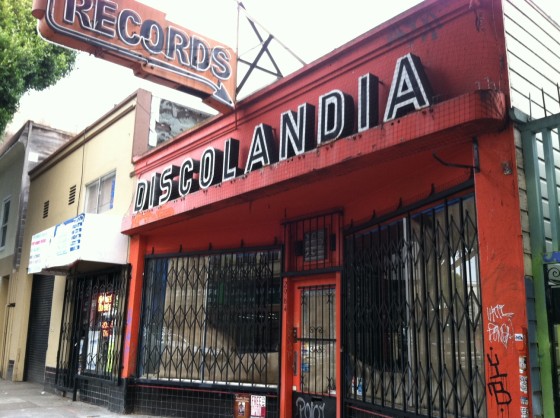 Last week Grub Street reported that the new business going into the old Discolandia space would be called Pig and Pie and that the business had applied for a liquor license [link]. Today, Miles Pickering, one of the owners gives us a few more details:
Somewhat obviously, Nate and I are opening a restaurant.  Pig and Pie is going to serve handmade sausages with unique dressings and homemade pies for dessert.  We'll have a standard selection, including a vegan option, as well as rotating specials and a variety of interesting side dishes.  The pies will be made from local seasonal fruits and be accompanied by ice cream from one of the local ice cream houses.  We're looking to create a place where you can get upscale food at a downscale price in a casual setting.  We think that sausages present a unique culinary opportunity, there's so much you can do with them.  There are a lot of great ideas floating around, you'll see stuff on our menu that nobody else has.
We're very excited about opening a restaurant on 24th St.  I've lived in the 'hood for well over a decade and have wanted to open a restaurant of some kind for about the last 5 years but all the pieces didn't come together until now.  The biggest piece of that was finding my business partner Nate.  Nate is a butcher and a chef, he makes a mean sausage and I'm happy to have him running the kitchen.  The other piece was locating a space.  I'd actually been looking for a space on 24th St. for a few months (considered the old Papa Potrero space but decided to pass on it) so when I saw that Discolandia was shutting down we jumped on it.  It's really our ideal location.  We're still waiting for the conditional use permit hearing with the Planning Dept which should happen sometime in September.  With any luck we'll be able to open by November.
Can't wait! (And can't wait to see the menu.)
[Photo by Rob T.]