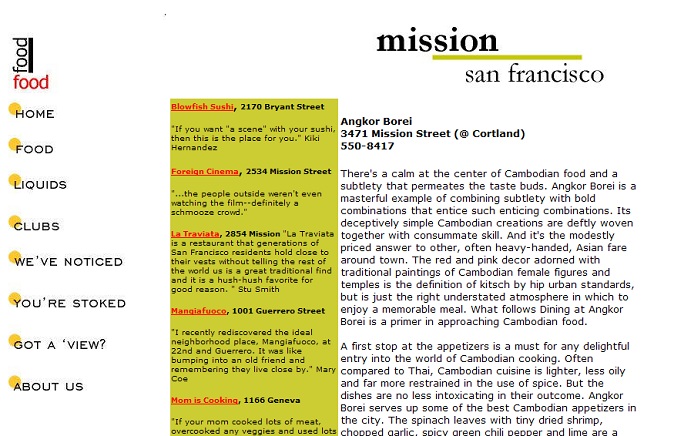 Here's a blast from before the bust of '01. When Slanted Door used to be on Valencia and places like Mangiafuoco on Guerrero used to offer basic Italian grub and grog ("It has chianti and what else do you need in an Italian restaurant").
Benders was Sacrifice, serving up rum ribs and voodoo pasta in a tiki setting ("Don't ask about how this purgatorial "tiki lounge" fits in, it just does").
Booze was referred to as liquids and Amnesia charged a whopping $2 for live shows. Over at The Uptown a good jukebox was defined as one stocked with Dylan and Morphine, but beers were $3 and the dude next to you could probably tip you off on a well priced nitrous tank.
The current de-gentrified Club Veintiséis on Mission near 26th was the gentrified 26 Mix, a "sound bar" offering up a high quality listening experience while you sipped on your suds à la Tokyo style bars which feature a premium soundsystem and choice djs.
Bonus interview with dj Spesh aka "dj Special K" of club QOÖL fame right here, who will surely get a kick out of this decade old frosty picture we've unearthed.