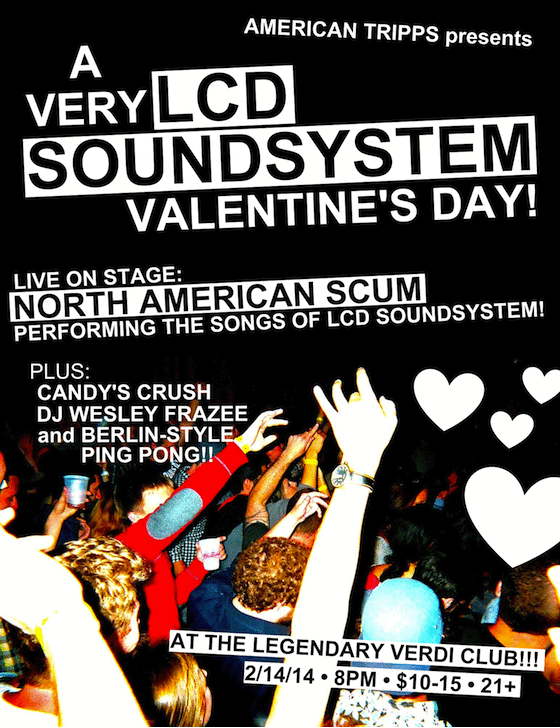 It's no secret that we at Mission Mission love LCD Soundsystem more than almost anything. And also, February 14th, in addition to being Valentine's Day, is also the anniversary of our first ever post (!), so we are very excited about this party and will be partying HARD:
♥ ♥ ♥ ♥ ♥ ♥ It's Valentine's Day! And what better way to spend it than with LCD SOUNDSYSTEM??? (Sort of) ♥ ♥ ♥ ♥ ♥ ♥ Here's the lineup:
• NORTH AMERICAN SCUM performing the songs of LCD Soundsystem
• CANDY'S CRUSH performing a bunch of other songs
• DJ WESLEY FRAZEE spinning danceable jams all night long
Plus we'll have Berlin-style ping pong, romantic lighting, romantic drinks, romantic vibes, possibly a photo booth of some kind, and more! Bring your boo, look sharp, and let's party like LCD Soundsystem still existed!!!
$10 in advance, $15 at the door; 21+. (Our last party with North American Scum was sold out by 9pm, so don't dilly dally!)
Also, Candy's Crush frontwoman Candy Winters was named "Best Rapper in the Mission" back in 2011!