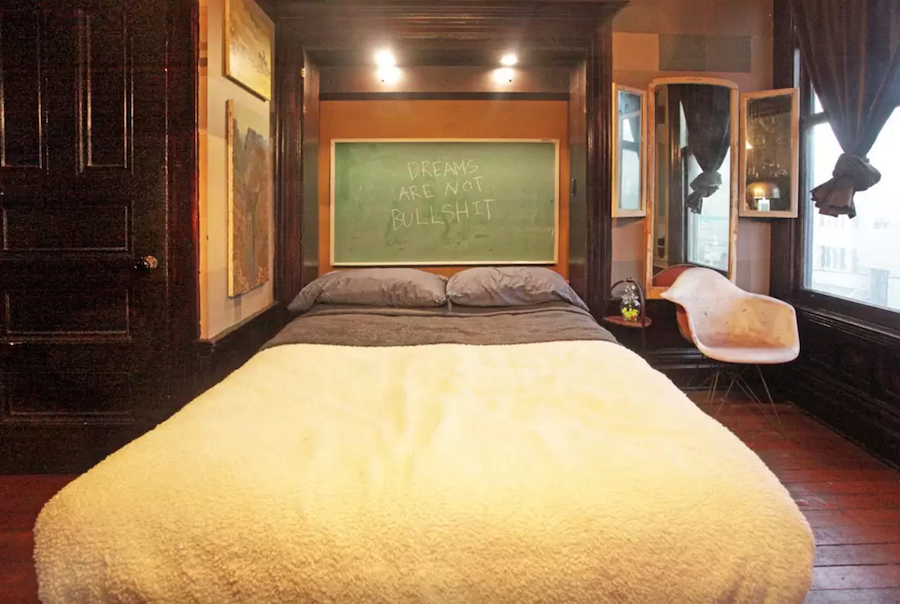 If you've got friends coming in from out of town, maybe they should consider staying with local artist Merkley. Here's his Airbnb listing:
About this listing
You'll hate it here. San Francisco is terrible. Nobody likes this city. The food is blech, the weather is awful, there are packs of wild dogs and flocks of screeching parrots coming at you from all directions.
Every street is an uphill climb both ways.
I'm being totally serious, the hills actually switch depending on which direction you go and every 45 minutes there's an earthquake that opens up the earth beneath your feet swallowing up all your friends.
And here's some more info on the space itself:
The Space
This house is OLD. It was built in 1885 by some weirdo named William Crocker who thought victorians were pretty neat. Boy was he some sort of narcissist, he ran for mayor in 1909 and came in 3rd.
What a loser.
Nobody ever bothered ripping out all the fancy details that come with victorians so you'll be surrounded by all that bullshit, plus the guy that has owned the place for the last 20 years is some bearded guy named Merkley. He is writing about himself in the third person. He thinks people like interesting things and details so he made the apartment reflect that sort of nonsense.
Have fun rolling your eyes.
Read on for lots more details and a bunch more photos.
(Thanks, Josh!)