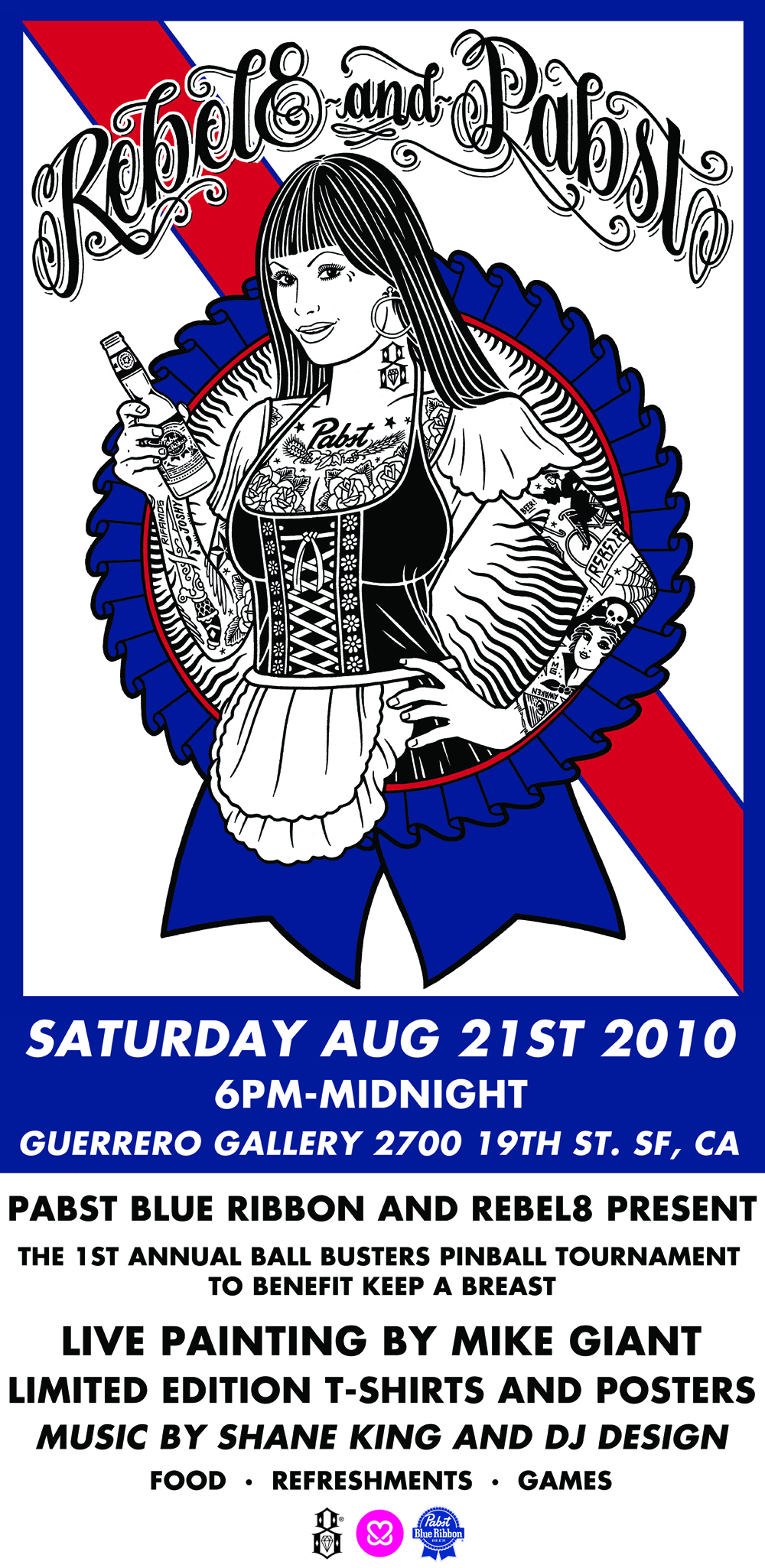 Bryan Whalen sends us this beautiful flyer and says:
Many will attempt to enter the arena of battle, but just one team will climb atop a mountain of destroyed egos, mangled wrists and crushed PBR's to hold the trophy high above they're head and claim the throne to all of the Pinball Land.

All Conan-isms asides, the time has finally come for teams to prepare for the 1st Annual Ball Busters Pinball Tournament. I've been plotting this tourney for a number of years, and finally , with the help of Rebel8 and our non-profit partner, Keep A Breast, it's all come to fruition. The tournament is an invitational, and I've hand-selected teams that I've had the pleasure of working closely with over my time with Pabst Blue Ribbon. I greatly appreciate everyone who has supported myself and the brand, and now I'm hoping to give you all a kick ass time in return. The event is open to the public, so I highly encourage inviting as many friends as possible, particularly for the purpose of cheerleading. We will also have 200 limited edition tees and posters by Mike Giant (who will also be doing a live piece), all for the ridiculously low price of $20, as well as the El Tonayense Taco Truck (I will provide some freebie tacos) and "refreshments", so bring cash! I am not charging for the tournament, but would love if each team made a small donation to Keep A Breast.

All the info you will need for the event is below:

1st Annual Ball Busters Pinball Tournament

Saturday, Aug 21st 6 – 12am
Guerrero Gallery, 2700 19th @ Bryant
Team Check-in:  5 pm (or earlier)
Team Warm Up: 5-6
Tournament: 6pm on

Rules:

Single Elimination tournament. Sixteen 2 Person Teams.
Teams will draw cards at random to determine machine and competitor. Teams flip for either 1/2 player or 3/4 player position.
Scoring : 1st round teams play two games. Team's drop high and low scores, remaining scores averaged. High score in match advances. 2nd round/semis/ finals/ championship play one game. Team's score to be averaged, high score in match advances.
While I am all for pinball finesse (nudging, bumping, bang backs), slamming, lifting, kicking, or slapping on machines is STRICTLY PROHIBITED. Players displaying poor pinball etiquette will be swiftly ejected from the tournament. See next item…
TILT RULE: 1st tilt player will be issued warning, 2nd tilt player will set out rest of game.
No food or drink on or near machines during gameplay.
Awards: 1st , 2nd Place and "Ball Busters Spirit Award". Spirit. Award to be determined by PBR staff and will be based on, but not limited to: cheerleaders, costumes, heart and good sportsmanship
Side bets and good natured trash talking are encouraged, but not required.

TEAMS CONFIRMED: HUF, Benny Gold, FTC, Medicine Agency, Workshop, Bender's, Fecal Face, Rebel8, 330 Ritch, Evergold/SFAQ, Self Edge, Bro Palace, 111 Minna, Indie Mart

So there you have it. NOW GET OUT THERE AND PRACTICE! I won't reveal what particular machines will be featured, but they're quite common (if you're good, you should be able to play on any machine!).  If you need hints on spots to practice, here's a few: Lucky13, Elbo Room, The Uptown, Route 101, Malotovs, The Cinch, Doc's Clock, Ace's, Bender's, Musee de Mecanique, Lucky Juju (east bay). Maybe I'll see you out there and join in for a game.
Will there be a team Mission Mission? Outlook not good. I know there are a few pinball wizards here, but I think Tetris and Ping Pong are more our sports. We'll just be there for the beer and yelling.