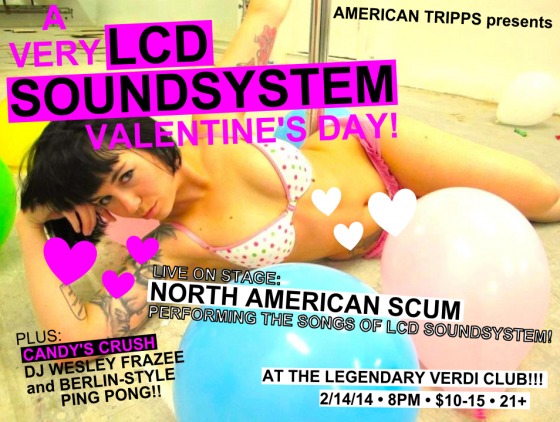 We've been rabid fans of Candy for a loooong time, ever since we saw her absolutely nail "Super Bass" at a DJ Purple karaoke party at Jack's, waaaay back in the day. (Candy does it better than Nicki Minaj herself, no lie.)
Anyway, her band, Candy's Crush, is making their live debut right here in the Mission this Friday night (which is both Valentine's Day *and* Mission Mission's 7th anniversary) at Verdi Club, opening for the world's greatest LCD Soundsystem cover band, North American Scum.
We asked Candy if she might be able to give us an idea of what to expect, and she was like totes:
What's your #1 musical influence?
Prince. Musically and lyrically, he is everything I want to be.
What's your favorite part about being onstage in front of an audience?
There's nothing better than being onstage. Personally, I live life pretty much entirely to entertain myself, and if, by doing so, I can entertain other people as well, I feel very satisfied.
How'd you put together your band?
Keith (our bass player) and I started this band after having a conversation about our mutual love for Chaka Khan. We wanted to do something funky that would get people to dance. At the time we were also in weird places with our love lives, so naturally starting a band sounded like a good way to get all the girls/boys. (I'll put that to the test at our first show!) After that, we eventually recruited Koop (drums) and Rich (guitar) so we could have the sexiest band ever.
How do you feel about Valentine's Day?
My 5th grade boyfriend bought me chocolates, a fake rose, took me roller skating and made me a mix tape for Valentine's day (which included Blackstreet, No Doubt and Queen). It finally occurred to me in recent years that Valentine's Day would never, ever again be so good. Instead of ranting about it, I prefer to use this holiday as an excuse to be with good people, get down on the dance floor and (hopefully) get some action. What more could anyone ask for?
Amen! Get advance tickets (since they're cheaper than tickets at the door) and RSVP and invite yr friends!