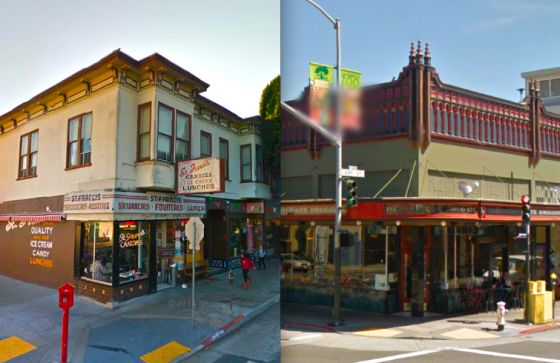 My pal Nattles and I have a beef. We both like both places, but she prefers Boogaloo's, and I prefer St. Francis, and sometimes it's a problem. We decided to enumerate what we like about each place. First, Nattles and Boogaloo's:
The people watching: Omer at the steps of that government building across the street (when he was around), the sidewalk sales on those steps… The bike lane & increased traffic in general on Valencia means you're liable to run into more friends (and enemies) and see more strange sights.
The Boogaloos Classic: vegetarian biscuits and gravy. BOOM.
Desayuno Tipico: plantain cake!
I like flipping my coffee cup to indicate that Yes, I would love coffee like at an old school diner.
Corner shop – All the light!
Friendly people!
Coffee to-go at the front is serve yourself.
Nice to go alone to.
Straight up I've never found a dish at St. Francis that I *really* like, and I have two at Boogaloos that I haven't strayed from in over 5 years.
Fair enough. Now me and St. Francis:
St. Francis has FRIES
It's on 24th Street
There's always a spot at the counter (unbeatable for solo dining)
It's not on Valencia
The mimosas are better
The people watching is also great (24th Street!)
It's not so bright! When you're hungover, sometimes you don't want it so bright!
I almost always order a grilled cheese sandwich with avocado and tomato and an egg over easy on the side, which I then plop on the sandwich. I've gotten this at both places and St. Francis just does it better. And it's way better with fries, doy.
You get to watch sundaes and floats being made
Three's Company trading cards for sale
On the rare occasion you have to wait for a table, the little bench out front is pretty clutch
Overflow dining room on the weekends, super-clutch
I just love the staff so much
You get to listen to the Clash or Talking Heads almost every single time
I love both places though. (FRIES!) Anyone else have any thoughts?
(Thanks, Nattles!)