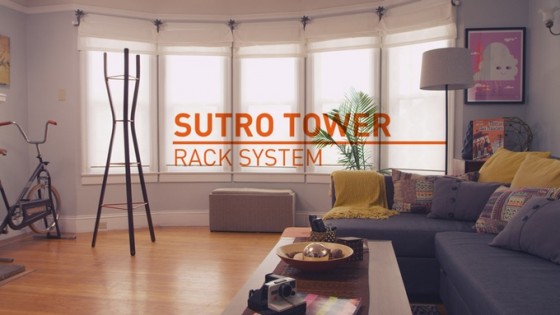 Finally, a miniaturized version of our favorite local landmark for your household! And it doubles as a shelf and coat rack, just in time for scarf weather. It's called the Sutro Tower Rack, it's currently raising funds via Kickstarter, and designer Timothy Seward wrote in to tell us all about it:
While living in the edge of the mission (20th+Potrero) I looked up and saw Sutro Tower everyday. I decided to take my street art skills and put them to the design test. I wanted to blend the beautiful mid-century designs of the past and incorporate my street art flavor. It may be hard to identify the street in this furniture piece, but the playfulness of the soft lines and pop colors are definitely inspired by my murals and my good friend Ian Ross' murals around SF.
Here's a gif of the Sutro Tower Rack in action:
And here's one of all of the delightful colors it'll come in:
Enticed? Head on over to the Sutro Tower Rack Kickstarter page and pledge. Want to see it in person first? Timothy will be showing the rack at the Urban Epicurean Festival at Fort Mason this weekend, where you can also snag yourself an on-trend Sutro Tower lapel pin.
P.S. Here are a bunch of our posts on Sutro Tower over the years…