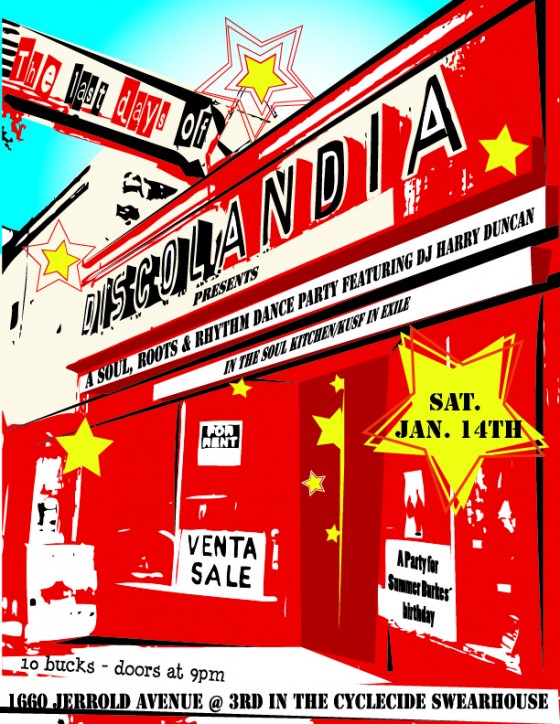 When news broke that Discolandia was to be replaced by a gourmet sausage and pie shop, some neighbors began to worry about the fate of the Discolandia signage, and the classic storefront as a whole. Our pal Linda was one of those neighbors, and she led the fight to preserve these things, in part by offering to host a party called "The Last Days of Discolandia" to raise money to preserve the signage. Here's what went down:
I hashed it out with the Pig and Pie dude to keep the Discolandia record sign and he's gonna refurbish and keep the actual Discolandia sign inside as part of the decor. Fair enough. He didn't want any money raised for any of that but I had fixated on the name Last Days of Discolandia so the party had to happen either way. Proceeds go to the Cyclecide Swearhouse.
Fair enough. The party is this Saturday. Here are all the details:
Last Days of Discolandia
presents
A Soul, Rhythm & Roots Dance Party
Featuring
DJ Harry Duncan
In the Soul Kitchen/KUSF in Exile
Saturday, January 14
$10, doors a 9pm, dancing till 2am
1660 Jerrold Ave. @ 3rd at the Cyclecide Swearhouse
KUSF's Harry Duncan, a.k.a. Harry D, has been holding down 'In the Soul Kitchen' on Tuesday nights from 7 to 9pm for the past 28 years. Who knows how many babies have been conceived on his musical watch. This self-proclaimed '"Man Behind The Mike With The Strong Stuff You Like" is the former manager/performer of the Meters, Ornette Coleman, Boz Scaggs, Irma Thomas, and Captain Beefheart, among others … and his record collection is vast as his segues are smooth. To listeners, simply put, Harry D's KUSF show has become synonymous with "Take me to funk and soul school once a week."
Duncan's late friend, legendary music producer Bill Graham, would, no doubt, be pleased to see DJ Harry Duncan stepping out from behind the mike to spin live at his monthly Roots and Rhythm Series at Amoeba Music SF plus spinning on shows with artists such as The Original Meters, The Roots, Femi Kuti, Sharon Jones and The Dap Kings, Tower of Power, Rebirth Brass Band, Warren Haynes' Tribute to Sly Stone, Soulive, Tinariwen, Boz Scaggs and Los Lobos.
http://inthesoulkitchen.blogspot.com/
Nothin' But The Best
(And Later For The Rest)
Sounds like fun! RSVP and invite your friends!
And to win a pair of tickets, tell us in the comments below, in detail, why you'll be missing Discolandia — or why you'd like to go dancing in the Bayview. Two winners will be chosen based on merit. Contest ends this Thursday at 6PM.