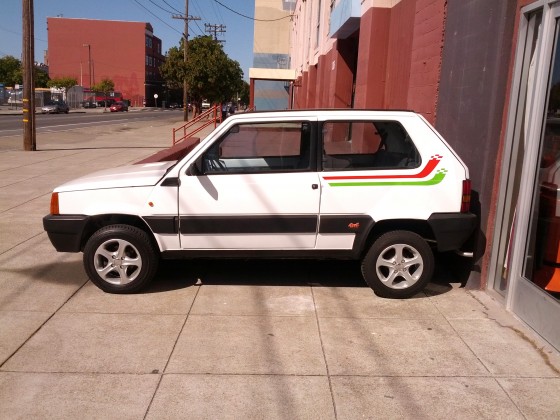 Whenever I see a cool car around the neighborhood, I take pictures and send them to my pal Eric up in Portland who runs Other People's Things, my favorite car blog. He responds with some knowledge and we post the results here and it's called "Car Beat." Here's what Eric has to say about this sporty little ride:
That is one nice Fiat you found. It's a late model Panda, but that' could mean a lot- this bodystyle was made from 1991-2003. It's also the "4×4 Trekking" model, which puts it in the the hall of fame of amazing 4WD subcompacts alongside the Subaru Justy, Toyota Corolla All Trac, Civic Wagon, and the Panda's Russian cousin the Lada Niva.
While I am no expert when it comes to import laws, this car poses a bit of a mystery if its legally tagged, as it is newer than 25 years old, which technically makes it illegal to drive in the United States. Nevertheless, it's an an eccentric's dream car, slow, (relatively) reliable, durable and Italian. That's not a combination that you hear too often. Love that grille badge as well, it almost makes up for those ridiculous Italian graphics on the rear quarter.
Thanks, Eric! Gosh, I love sporty Fiats.