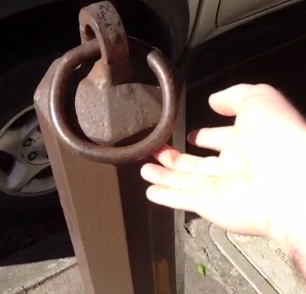 As part of a digression in a great post about Thomassons (objects in cities that are useless but still remain, like these hitching posts from the days of horses in SF), TK from 40 going on 28 poses a question:
When you're saying something is located in a neighborhood that ends in "Hill," do you say "in" or "on"?  Like, I say "You know, Thee Parkside, over on Potrero Hill," or "That is the douchiest place on Russian Hill, and that's saying something."  Sally obviously prefers the "in" usage, as in "My bro sold his startup to Google and bought a place in Rincon Hill."  Is either one right or are they both cool?  I don't know.  *shrugs*
Tough one! Maybe think geographically? Thee Parkside is technically in the Potrero Hill neighborhood, but it is not on the hill. So I'd say "in." Whereas Blooms Saloon is definitely *on* Potrero Hill, so maybe I'd say, "Blooms, on Potrero Hill." Or would I? Hard to say.