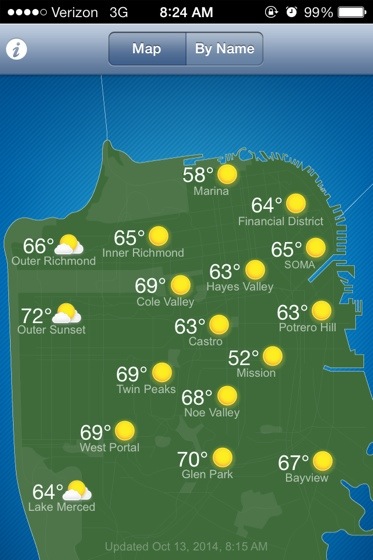 Something about this seems real fishy. Also, I've lately been quite obsessed with SF Climates!
Way back when I was first looking for a place to live in SF, I happened upon this charming in-law apartment in the Outer Sunset. It had everything I needed, and the sweet old lady landlord seemed nice enough, although she did keep making references to these "crazy parties" she would periodically throw.
As we stood together in the bright, sunny backyard, I remarked about how beautiful a day it was, and innocently asked whether it was often like this. With a deep sigh, she said:
You seem really nice, so I just can't lie to you. It's probably this nice here only about 5 days a year.
Disappointed, I left and started looking for places in the Mission. But! Perhaps I was just 8 years too early?