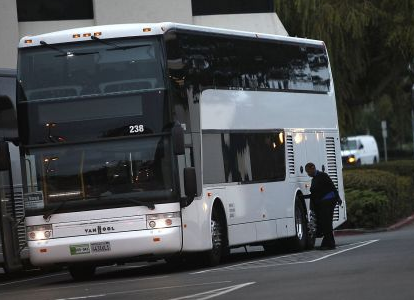 SF Gate reports:
For Brandon Barlow, life as a Google bus driver was one endless cycle of traffic and exhaust.
He left home before dawn and arrived home late, after long hours spent shuttling Google employees back and forth on Highway 101. And Barlow wasn't paid for the hours he had to wait around near Google headquarters in Mountain View before making the return run to San Francisco. That was the worst part of the job.
"They make everything convenient for Googlers, but they don't make anything convenient for drivers," Barlow said recently, exasperated. "There are so many fatigued tech shuttle drivers out there."
If Silicon Valley shuttle buses are the physical symbols of San Francisco's tech boom-fueled friction, then drivers like Barlow find themselves in an odd place: Bus drivers have benefited from the boom, but many feel exploited by those who have profited the most from it.
Such workers are tenuously employed with few job protections. Drivers like Barlow don't even work for Google — they are employees of third-party contractors who typically receive low wages and often paltry benefits. Some drivers have also questioned the legality of practices employed by those contractors, such as requiring drivers to work split shifts in which they spend unpaid hours waiting for the afternoon leg of the commute.
Read on for lots more.
[via SFist]