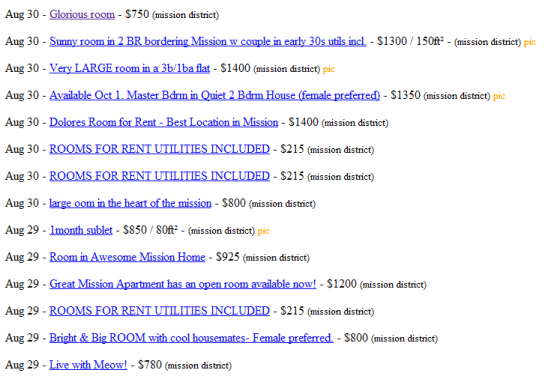 You already knew that the housing situation in SF and the Mission in particular was so bad that people have resorted to paying for Facebook ads in order to find a place to live, but this utterly amazing Craigslist room vacancy post is sure to depress even the most optimistic apartment seeker:
I have a shitty room available that no other people in the house want, hence the ad on CL.
I figure I can charge you more so the existing roommates can all pay less. I've actually been here for 8 years, so I'll be making money off your rent.
It's about 8×6, has a window facing a brick wall, and has no closet. The closet is down the hall, down a flight of stairs, … ah hell it's in the garage.
Also, the room is not really a room, it's half of a double parlour and your door is a sliding one that doesn't close all the way. You can hear your roommate on the other side think.
We're having an open house, so if you really like talking about yourself and giving us your life story while other strangers are present, you'll be in your element.
One of our roommates is out of town, we would like you to skype with him a few days from now when we've picked some people out. Then after that we will narrow it down again to a select few (10) and meet next week for round two. We don't have a life so we welcome the chance to have people over that show interest in us and praise our wonderful abode and everything about us, whether it's sincere or not. Hey, a couple of us guys are single, so this could be a chance for us to score some dates. I don't think that's creepy at all.
We'd like your facebook and linkedin info. We feel that we can tell what kind of person you are and what you'll be like, just from looking at how many friends you have online. There's never been a better way to get to know someone.
Send us an email or go buy a lottery ticket – chances of getting the room are roughly the same.
Obviously it's not real (I hope), but having gone through the soul-crushing Mission housing search on Craigslist myself a while back, I can tell you with complete confidence that it is extremely close to the truth.
(Thanks Jason!)