For this installment of the good old drama talk with Katie & Brittany, the duo went to see the 12th Annual Bay One Acts Festival – Program 1. Here's their report.
When we heard that there was a festival going on that brings together local artists and many different theater companies we were really excited to check it out. So, this past Sunday night we headed to the Tides Theater in Nob Hill for the 12th Annual Bay One Acts Festival to see 6 different short form plays. Since there are so many pieces we decided to break it down a little differently than usual, just giving you our first thoughts on each of the plays. Jump to the verdict if you don't care about our initial reactions to the specific plays.
#1: Modernizing the Afterlife – A dead Google developer gets recruited by St. Peter's nephew to optimize their afterlife processing.
Katie: It made me think of the time I went on an online date with a guy that developed apps for a living . . . and just like this piece I left that date slightly intrigued, slightly confused and wanting more.
#2: Desiree – A woman copes with the aftermath of ten years in captivity.
K: One word – Awkward. All I could do was compare it to the Cleveland woman tragedy. It was the one piece that no one knew when it ended.
Brittany: There were a number of pieces that fell short because of the acting, this one fell short because of the writing more than anything else.
#3: Write Dirty to Me – Dead writers operate literary phone sex lines.
B: This show is what an english major, who is crazy nerdy, thinks is funny. But if you are not deep into english major land you have no fucking clue was is going on.
K: Which was me.
B: This show also reminds me of the time I saw the Vagina monologues during high school and afterwards we said "cunt" over and over again because we thought it was funny. Dirty words just aren't that funny when you're an adult.
Intermission
#4: Love Song of Aflred J. Prufrock – A T.S. Eliot poem set to movement.
B: This show made me think of the time I was at a bar when I was 21 and a 50 year old hit on me.
K: Awkward.
B: Yeah.
#5: Red All Over – In the wake of a school shooting tragedy, new relationships begin.
B: Remember that thing we said last time about story arcs . . . there wasn't one.
K: There wasn't even a story . . . to be arced.
B: Also, why does a lesbian romance have to happen at a child murder scene…I don't get that.
#6: Last Couples Therapy Session on Earth – The Zombie Apocalypse has happened, but that doesn't mean that this couple is done working through their problems.
B: Well written, cute, vignette. It was the best piece in the series.
K: It would have been hilariously bizarre, Modern Familyish, if not for The Walking Dead.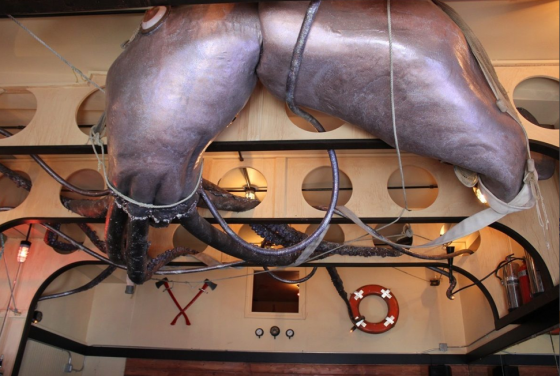 [pic of The Royal Tug Yacht Club by Rose Garrett for Eater SF]
The Verdict: We really, really, really wanted to love this festival. It's a great idea executed in a really cool space. We wanted to walk away feeling like we saw some fresh, innovative, well developed, entertaining theater, unfortunately we did not. We did only see Program One, so we can't speak to the festival as a whole, but if Program One was any indication of what Program Two will be like, this festival is best left for an audience of friends of the artists and/or other artists that want to learn from watching artists, the general public might be disappointed.
The Drama Talk: Bay One Acts is a great platform for local directors, writers, and actors to collaborate, but when it comes down to it people are paying $15 to be entertained and moved and we just really weren't. We want to bring new audiences to the theatre, not just support art just for the sake of supporting art. We don't think a new audience would be that impressed by what should be some of the best new works in the SF theatre scene. At least for Program One, the writing itself is really what fell short for us.
The Drinks: We heard of a new bar that opened a couple months back just a few blocks from the theatre. The Royal Tug Yacht Club was the perfect place to discuss the evening, a small, almost empty, interestingly decorated (there's a huge octopus on the ceiling, what is better than that) dive bar with great, strong cocktails. Brittany had the "Seek and Destroy", which was what she was hoping this festival was going to do (you know, just "kill it") and Katie got the "Washed Up", which was what she felt she was after seeing this show.