Fortunately for all of us, theater is alive and well in the Bay Area. Between some great shows and inspiring conversations, Drama Talk & Drinks is seeming more and more hopeful for lively, challenging and engaging performance around here. I dunno about you, but I am feeling jazzed to get out and see some theater. More on that soon. In the meantime, Brittany and her boyfriend took his mom to Berkeley Rep to see their new show, Party People. Here's their report: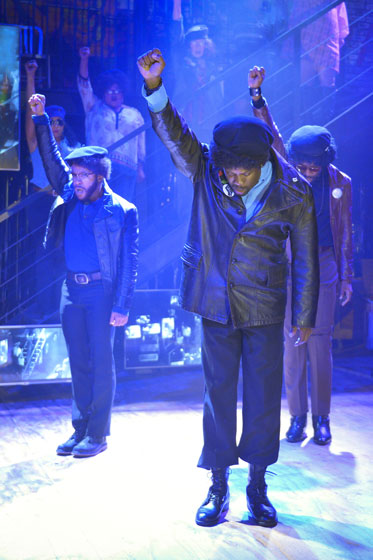 [(l to r) Christopher Livingston (Malik), Steven Sapp (Omar), and Reggie D. White (Solias) perform in UNIVERSES' Party People, a high-wattage fusion of story and song that unlocks the legacy of the Black Panthers and Young Lords at Berkeley Rep. Photo courtesy of kevinberne.com]
When parents visit, finding events with reasonable decibel levels can sometimes be a challenge. So when Brittany's SO's Mom was in town, they decided to treat her to a night at one of the best theaters in the Bay Area, Berkeley Rep, to see their current show Party People. Since the play is partially about fostering intergenerational dialogue, we figured why not do a Drama Talk & Drinks Parent-Visit edition!
Brittany: One of the biggest problems with the current theatre scene, at least in my opinion, is it tends to play it too safe and fall back on what's already been done. We see so many revivals and classics being remounted, and even with new plays lots of topics have been revisited ad nauseum. There's definitely something to be said for timeless theater, but it's hard to stay relevant without taking some risks. This play takes risks.