Katie & Brittany saw Pippin, yes Pippin, and really liked it! It sounds pretty sweet. And while we're (they're) speaking (writing) of Bob Fosse and Ben Vereen, check out The Jazz Singer, the final scene is one of my favorite in all of cinema. Here's their report: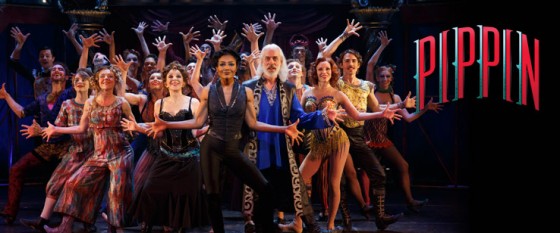 An over-educated privileged youth graduates college and desperately searches for something meaningful to do with his life. He tries war, drugs, casual sex, Burning Man-esque orgies, social revolution, religion, and even farming, but still feels unfulfilled. This may sound like every millennial we love to hate, but this time the youth is a prince, the son of Charles the Great, the Ruler of the Holy Roman Empire, and his ennui is the driving coming-of-age story behind the 1972 hit musical Pippin, which won the Tony for best revival in 2013. This lesser known Broadway classic has oddly been Brittany's favorite musical since she was a little kid (maybe she identified with the privileged angst), so when we found out the tour was coming through SF, Drama Talk & Drinks had to go.
Katie: Wow, so I had no expectations walking in. It's a musical I've heard nothing about, aside from what you've told me. So the whole time I was like WHAT! There was a lot going on, and I was a bit overstimulated, but not in a bad way. It was a lot of fun. A real spectacle. It was spectacle spectacle spectacle until the end, and even that was spectacle. I kept trying to guess what the original was like.
Brittany: AWESOME! Yay, I'm glad you liked it. I come into this show with the craziest bias, because I'm pretty sure I'm one of the only people under the age of 30 for whom this is a favorite musical. I watched the movie of the original with Ben Vereen in it at least 100 times. So whereas you were trying to figure out what was revival what wasn't, I was thinking, "Okay, that dance is the same", "WHOA, that's different", throughout the whole show. It was great seeing what a fresh take on this show can be, and I liked it!